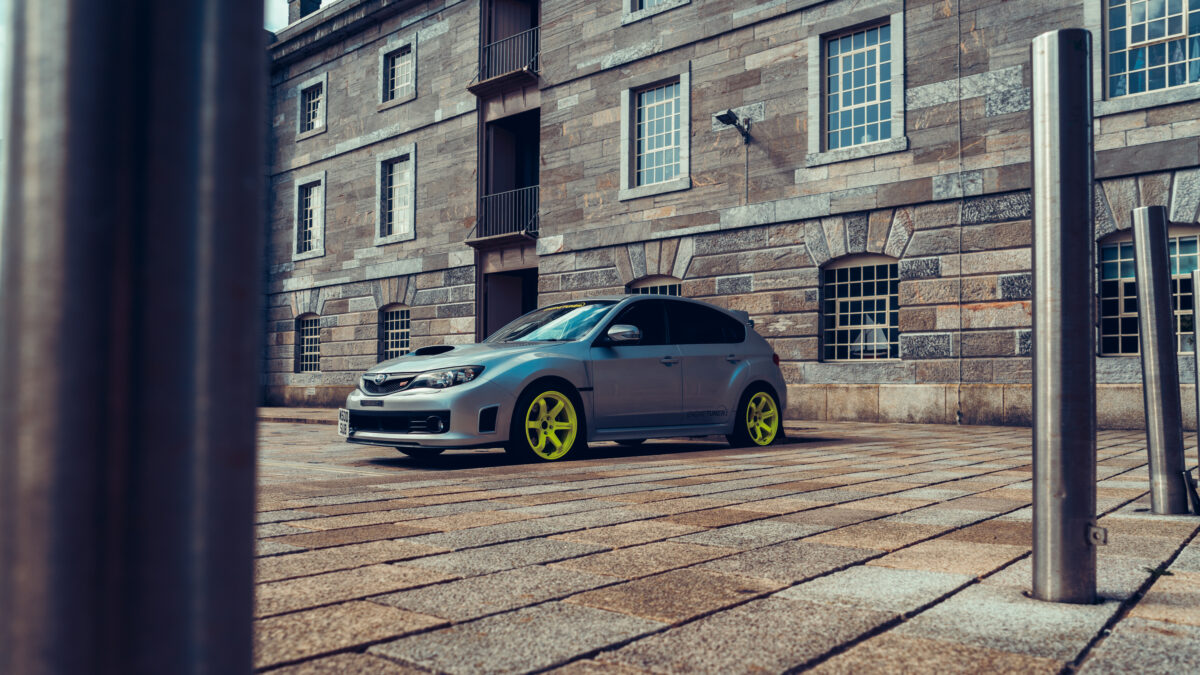 At Enginetuner, we are currently seeing a huge spike in the popularity of the Subaru Impreza hatchback.  This is mainly driven by the soaring prices and dwindling numbers of good classic and newage cars.  We have a soft spot for this model on account of the extra levels of refinement while retaining all the things that make an Impreza special – the performance, noise and grip!  We also happen to think that its looks have aged very well.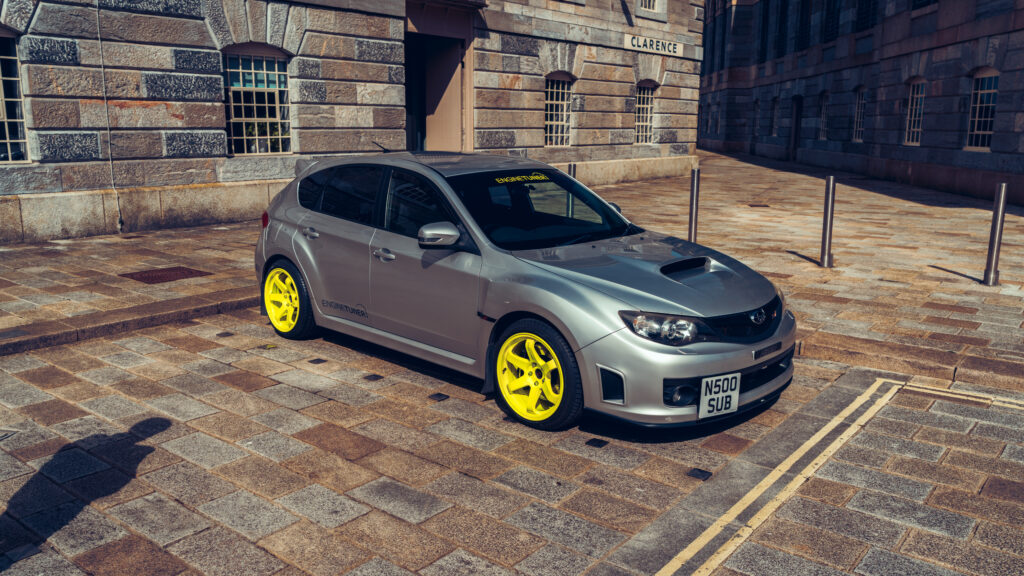 This particular car belongs to Vicky who lives in Scotland.  Or to put it another way, eight hours drive from Enginetuner HQ in Plymouth!  Vicky is no stranger to Enginetuner thanks to her partner, Craig, who has had a couple of cars built by us.  So when the head gaskets gave way on her Impreza, it was the perfect opportunity to have her very own Enginetuner build!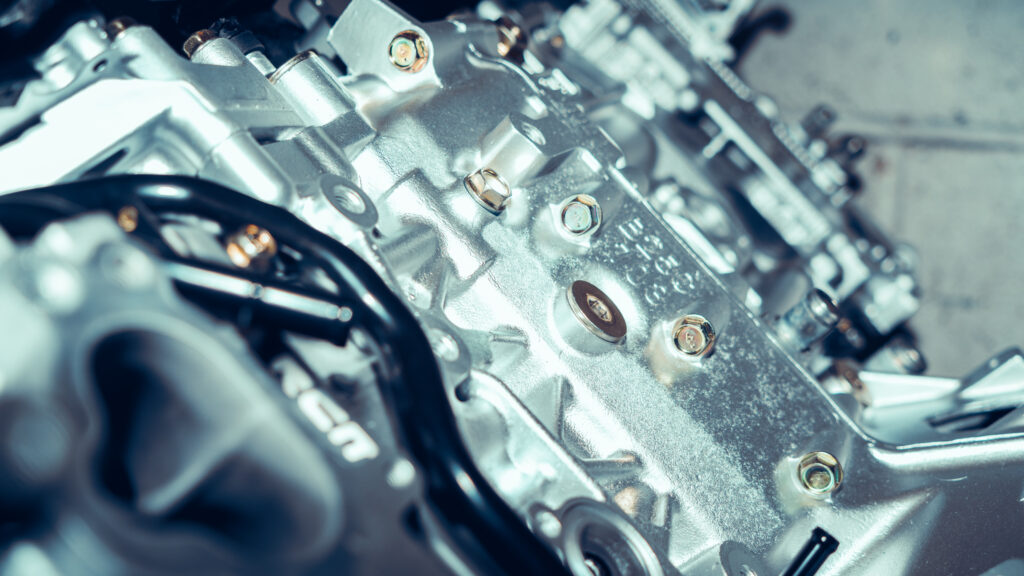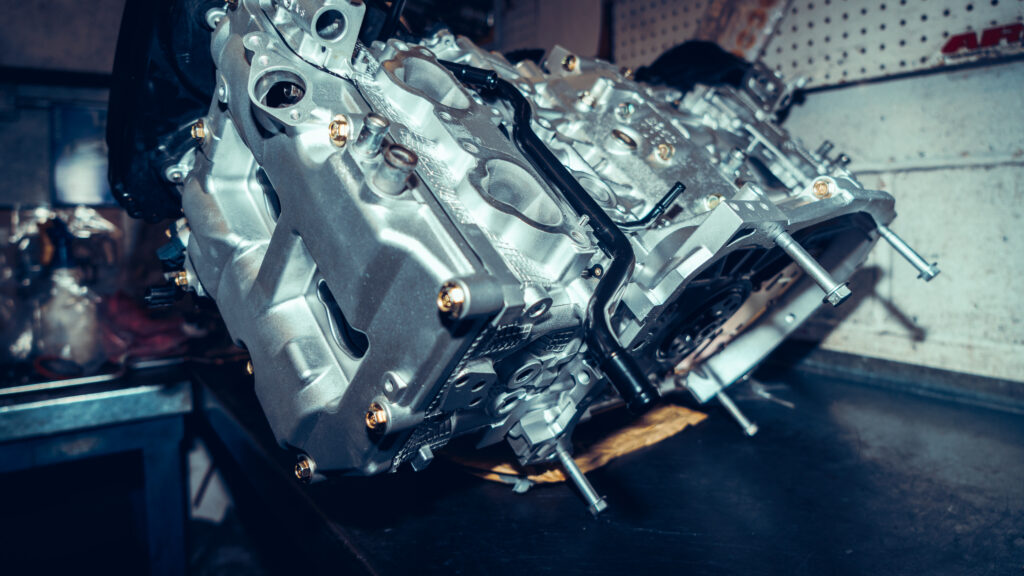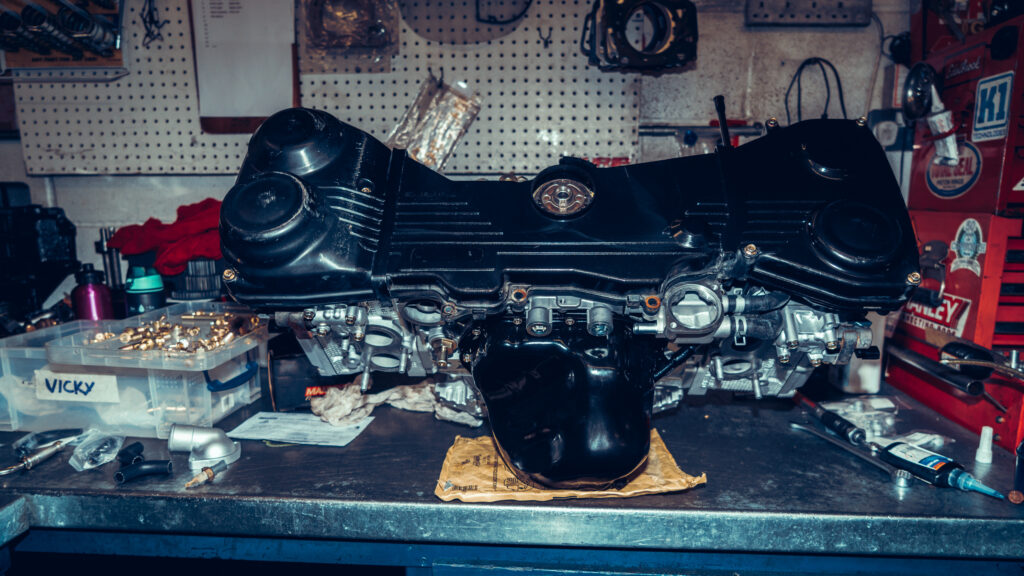 With the car in the workshop the technicians set about removing the engine for inspection. It transpired that in addition to the failed head gaskets on the exhaust side, blemishes were discovered on the bores.  To alleviate the blemishes, our engineering team rebored the block in house to accommodate a set of oversized forged pistons.  With a closed deck conversion installed, forged rods and some other choice engine enhancements to increase the strength of the EJ25, the engine was put back in the car.  To free up some additional power and unleash the flat four rumble, we installed a new Cobra exhaust system complete with heat wrapping.  With a spanking new forged engine, a new RCM fuel pump and Fuji Racing injectors, Vicky asked us to make sure the other aspects of the car were in tip top shape.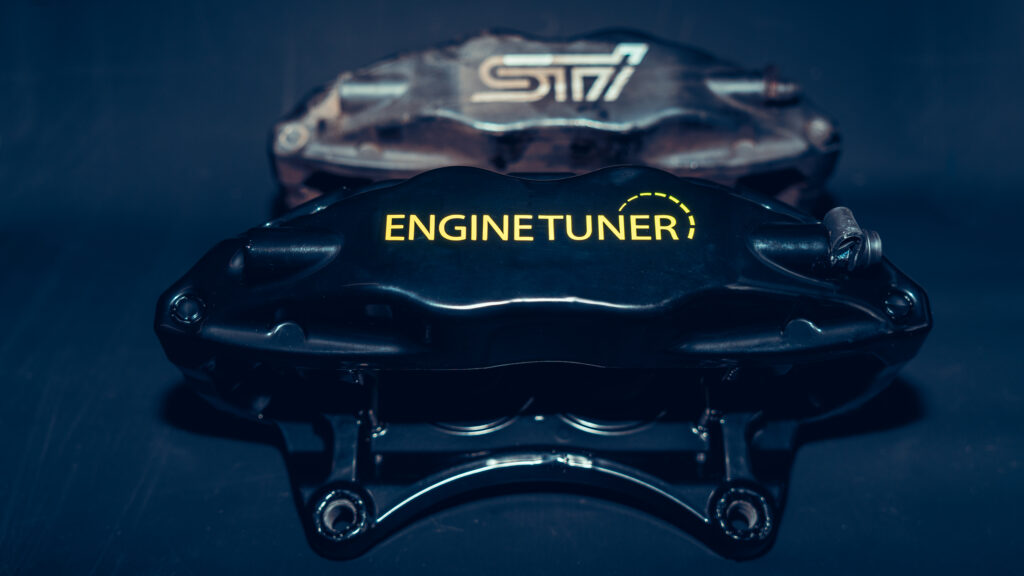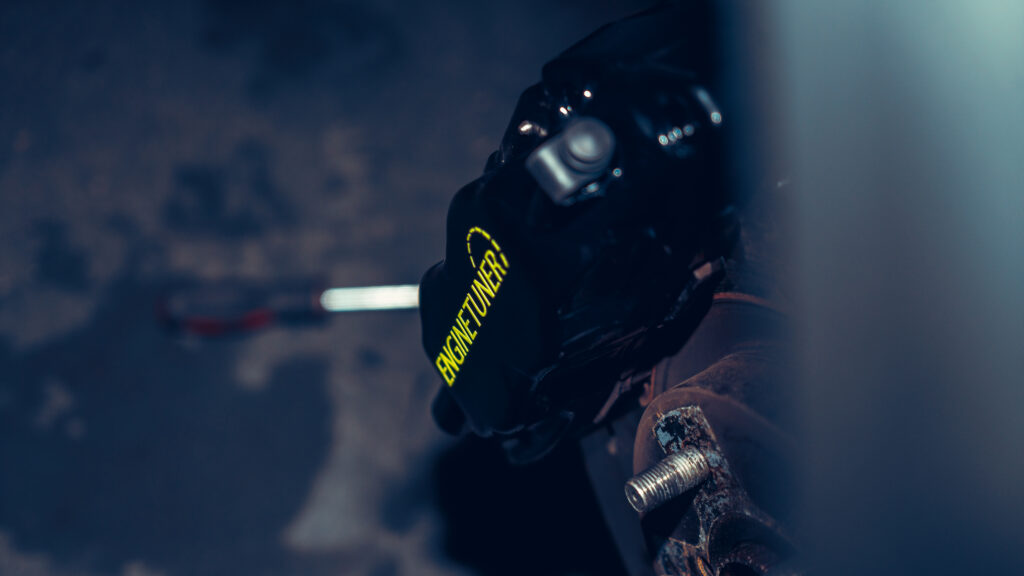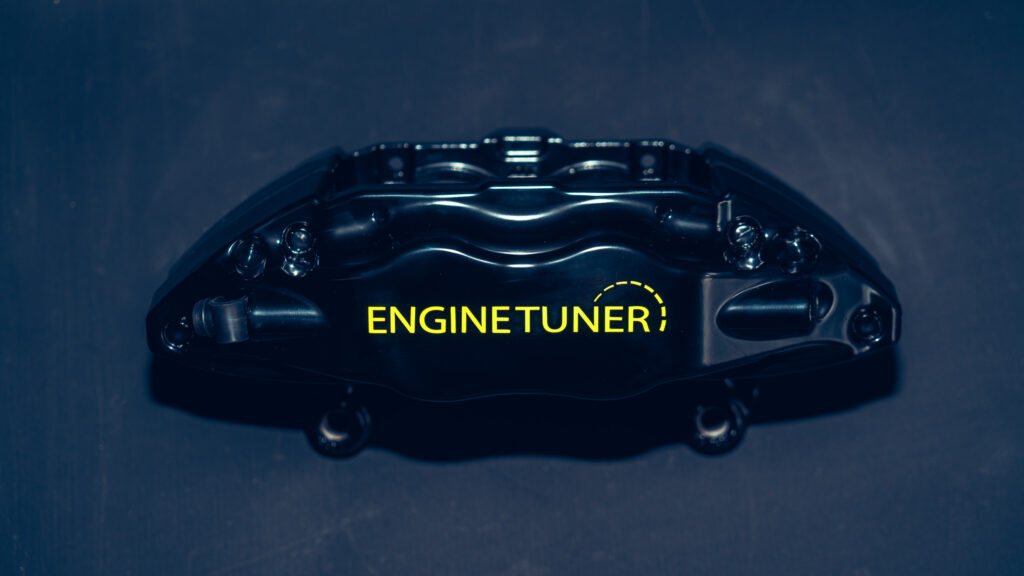 The four piston Brembo brake callipers fitted to STI models are pretty good, but they can deteriorate over time.  We found that Vicky's were worse for wear so we had them stripped and completely refurbed.  As a committed fan of Enginetuner, Vicky asked us to give them custom paint and some Enginetuner decals.  We think they look absolutely brilliant teamed with the G-hook discs and the Kevlar pads which provide plenty of bite!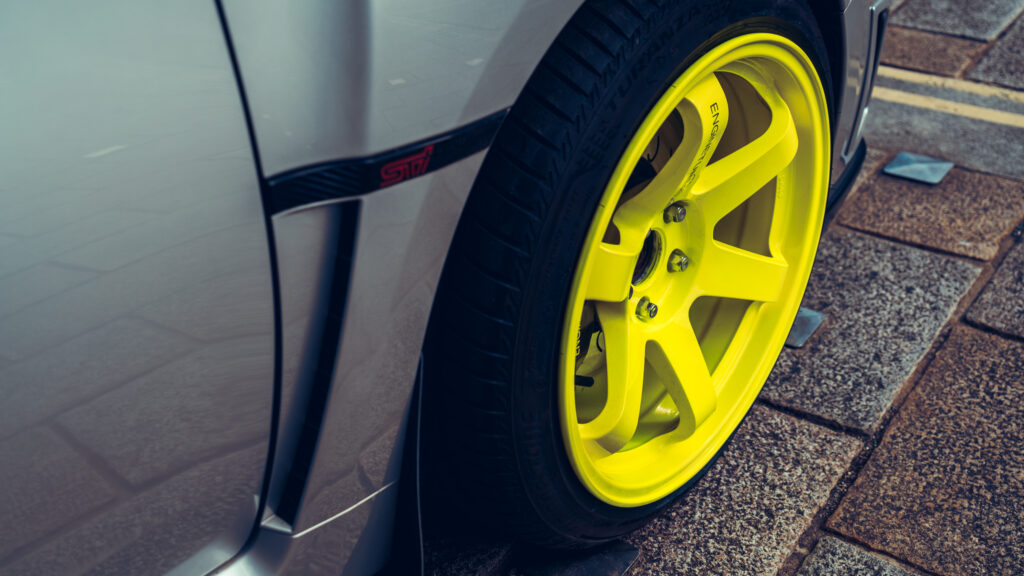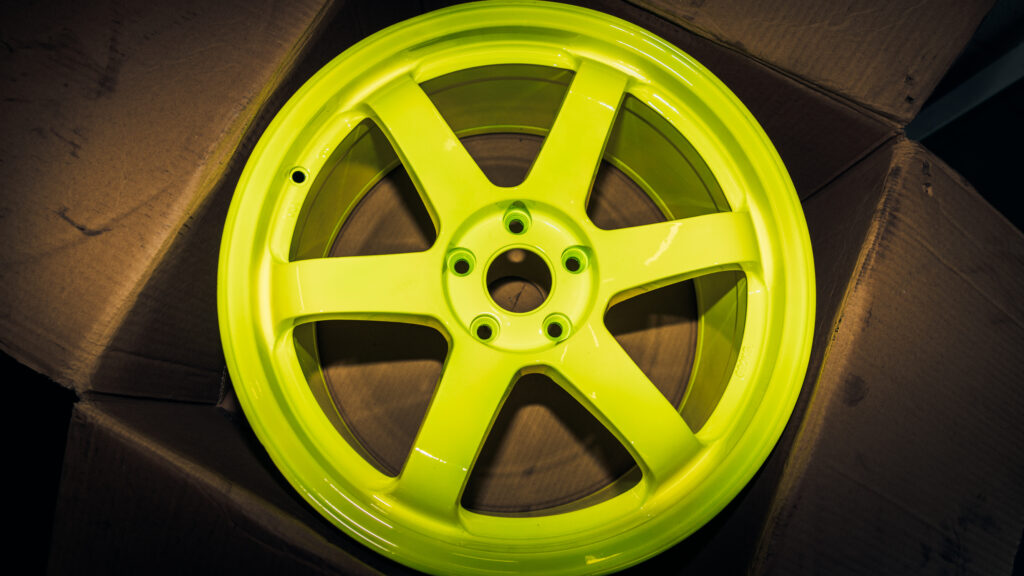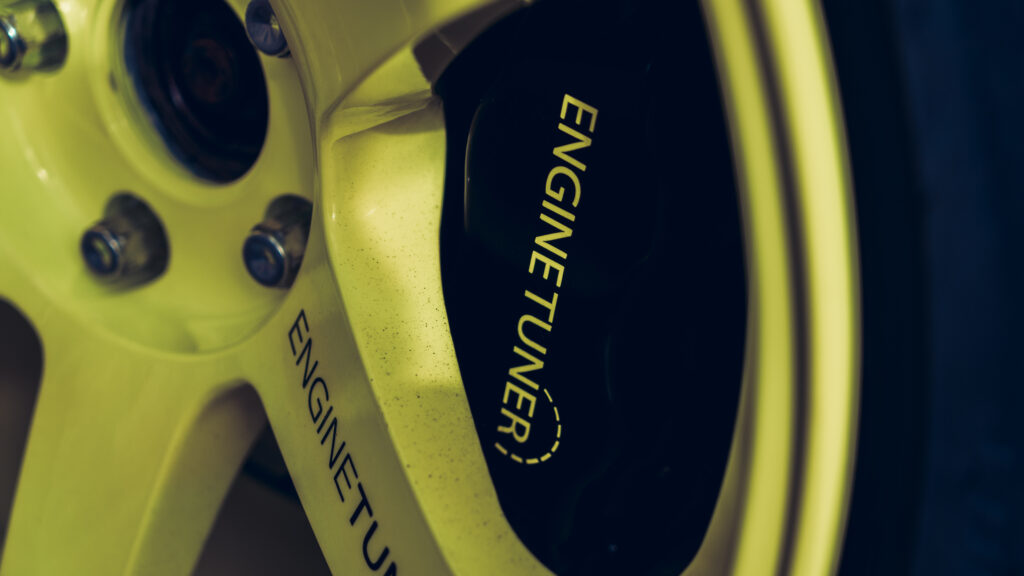 Vicky sent down a set of 18" Rota wheels to fit to the car.  We treated them to a full chemical strip and refurb before painting them in day-glo yellow at Vicky's request.  It's safe to say they are bright!  With new Bridgestone rubber fitted, we carried out a four wheel laser alignment to make sure the handling matches the power and to prevent any unnecessary early tyre wear.  A new front anti-roll bar and droplinks beef up the handling further.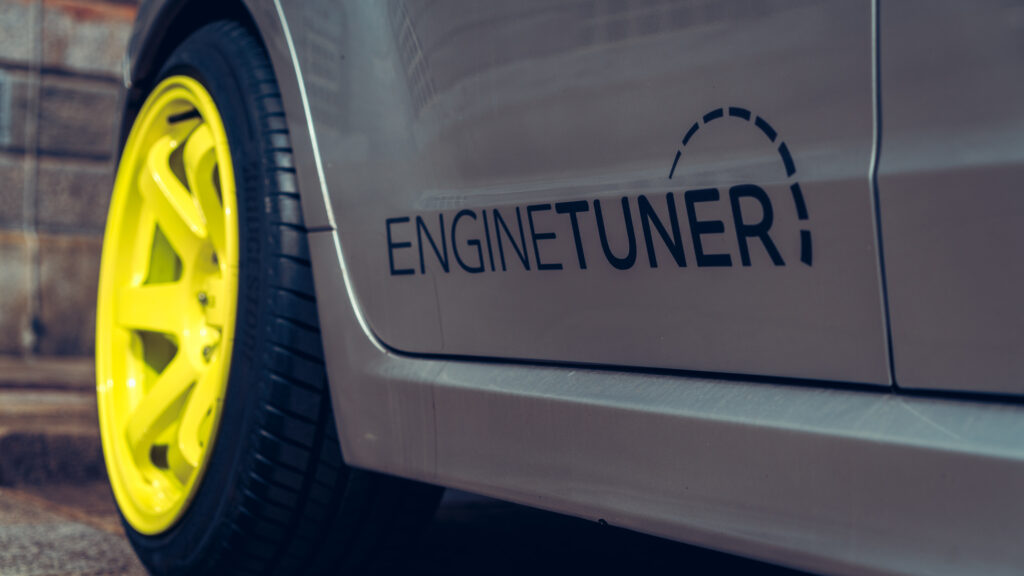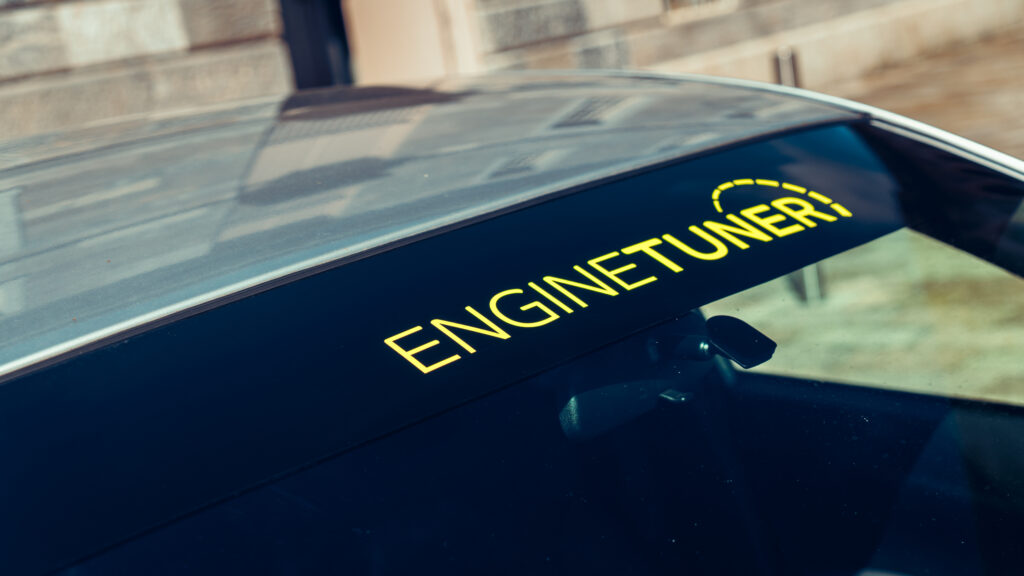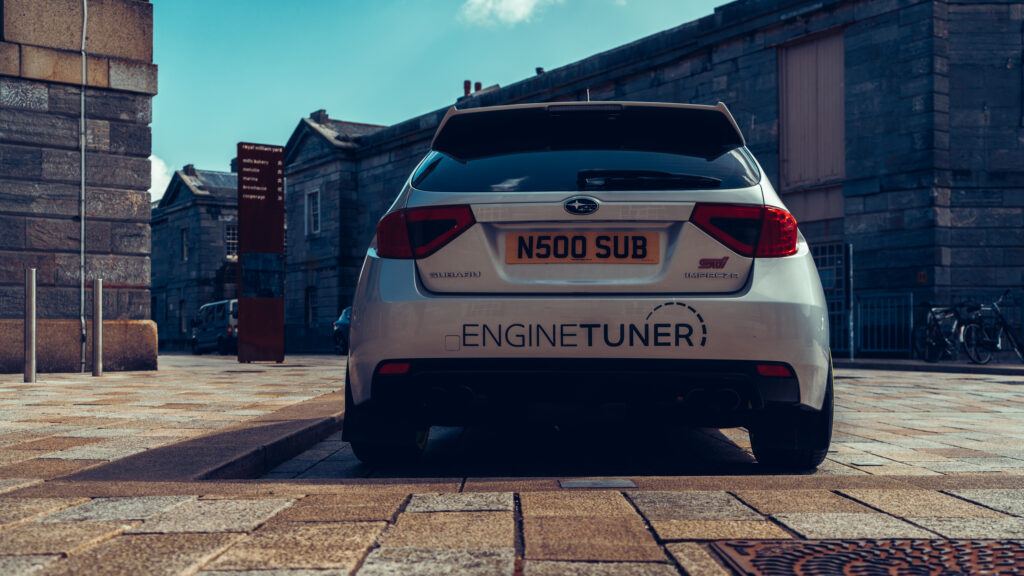 One final touch at the request of Vicky was to add a custom Enginetuner sun strip and decals, proudly representing Enginetuner north of the border.  Thanks, Vicky!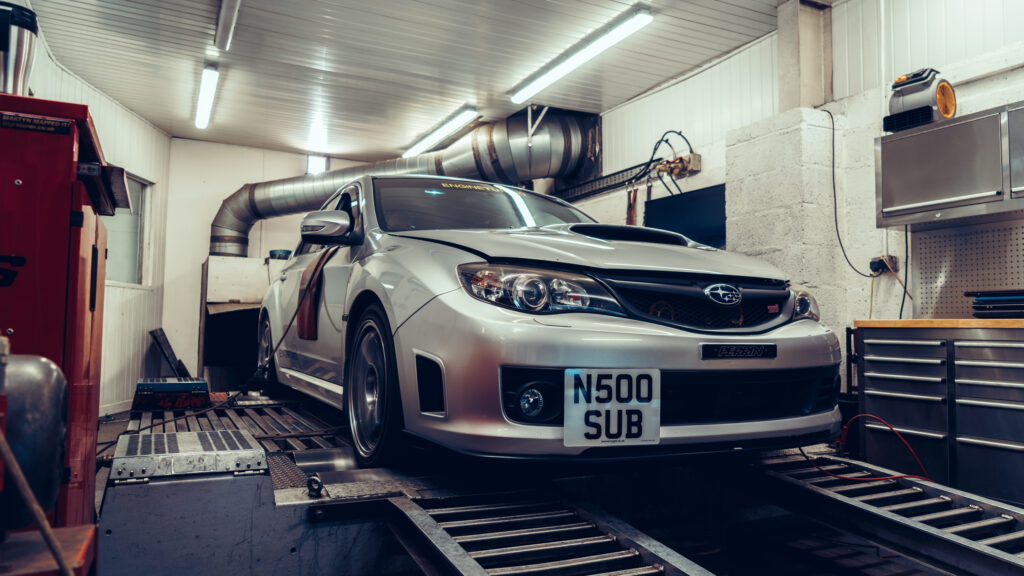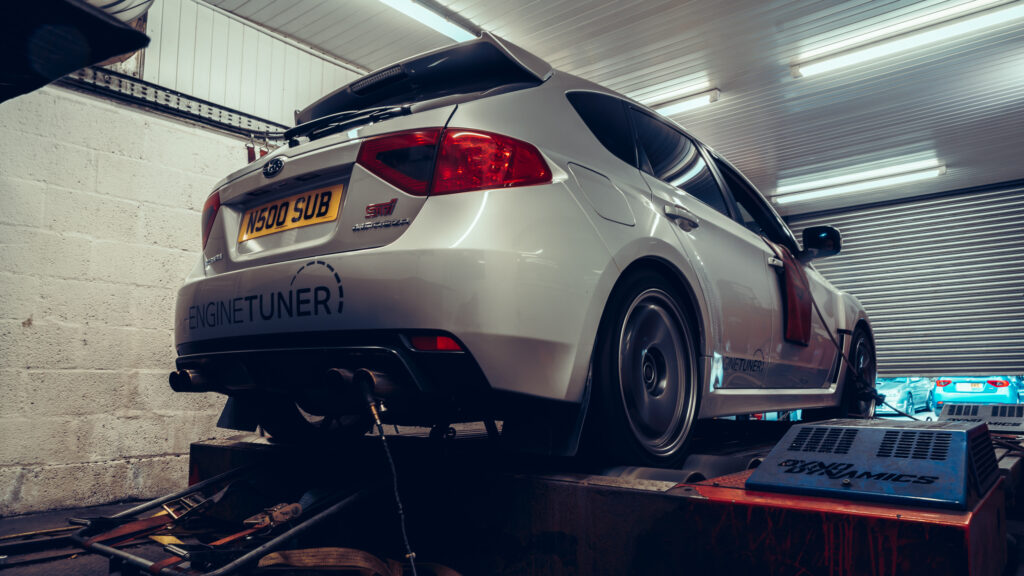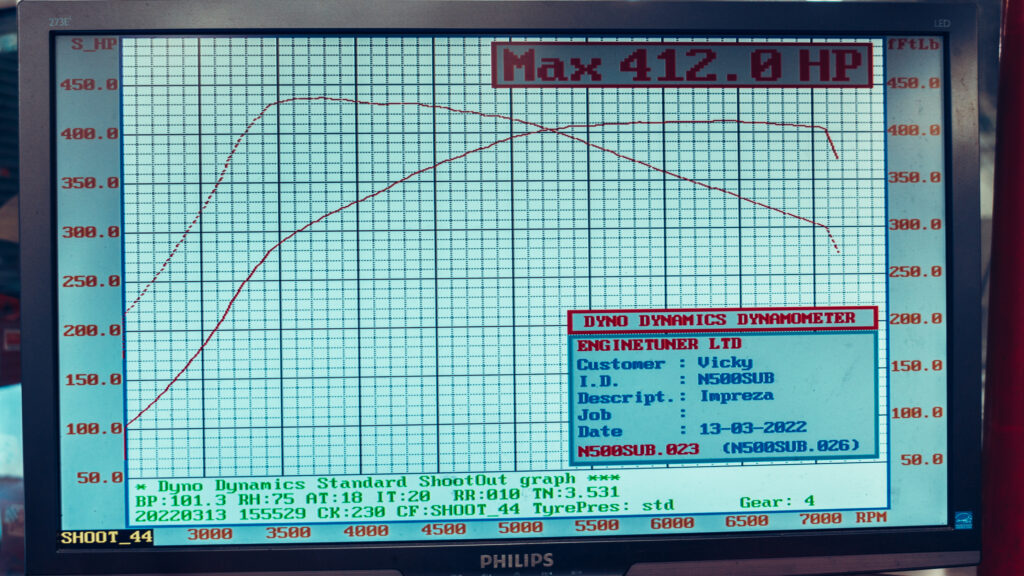 Running in miles complete, it was time for fresh oil and filter before mapping.  Martyn has set the car up perfectly using the OEM ECU and it now produces 412 BHP and 440 FTLB of torque.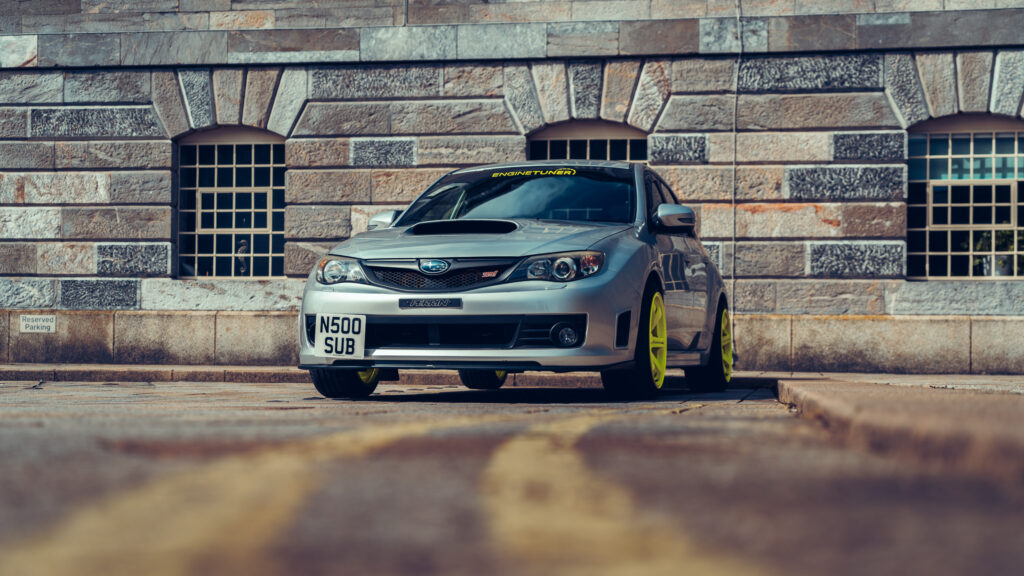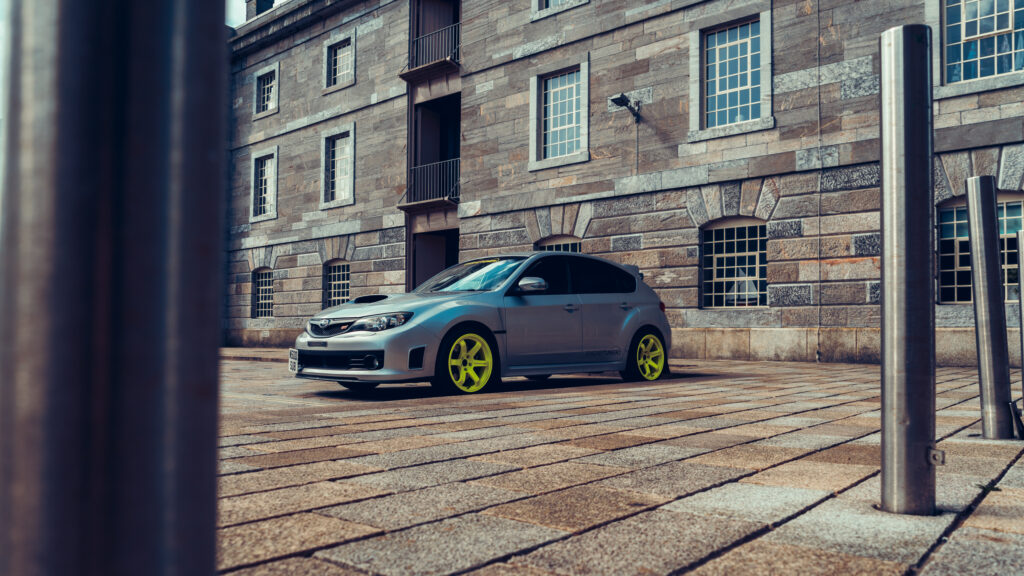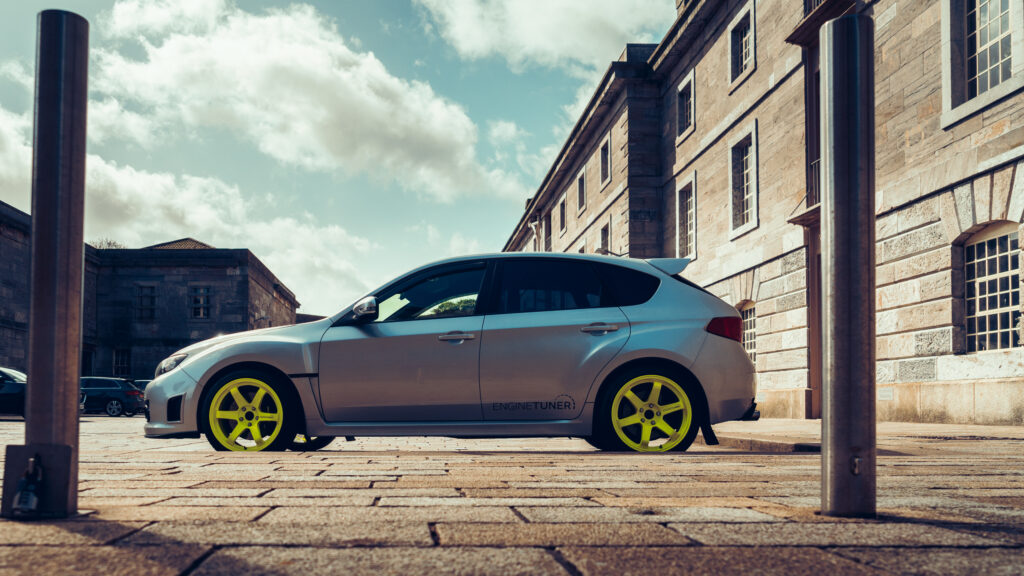 We are huge fans of the STI hatch Impreza, so much so that we are busy building up our own demo car on the same chassis.  Despite its wide arches and bespoke livery, somehow it doesn't have quite the same presence as Vicky's.  We wonder if there is any yellow paint left over?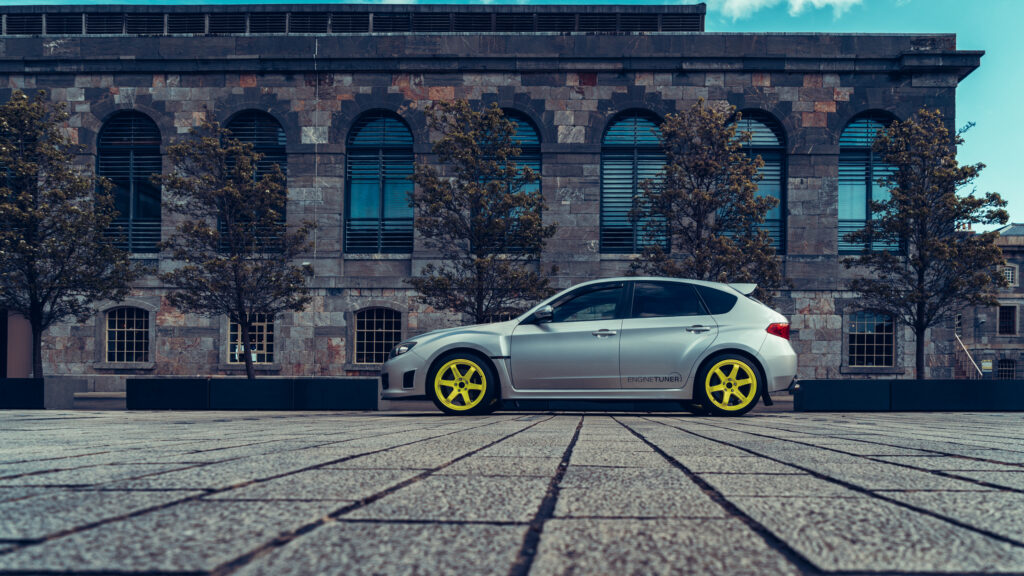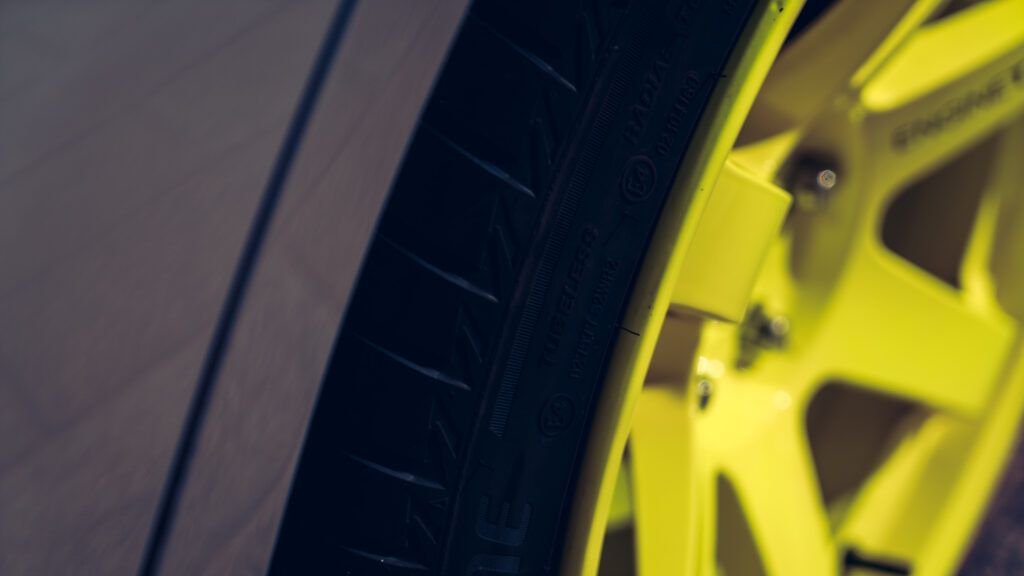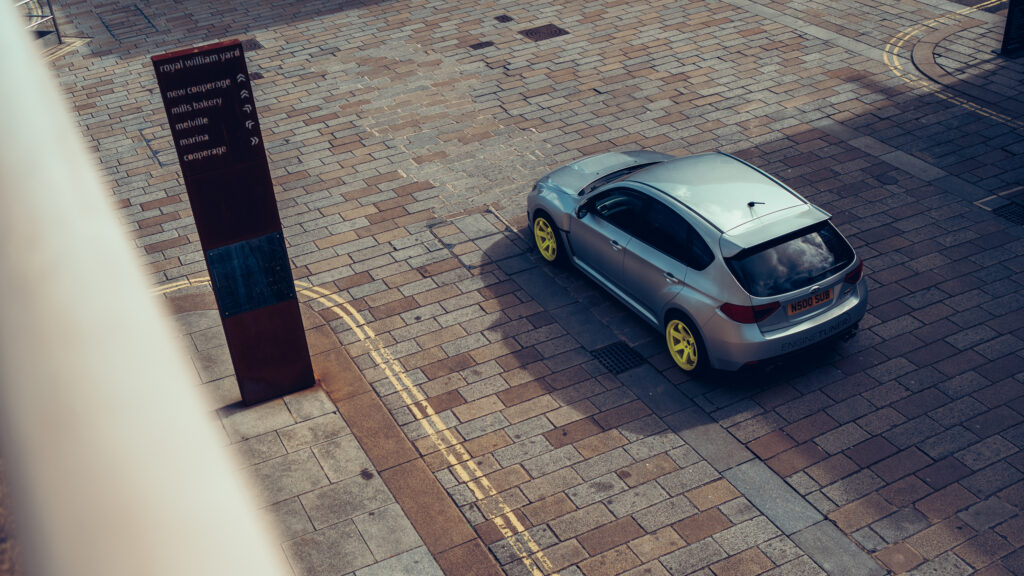 If you are looking to improve any aspect of your vehicle, get in touch with our experts.  From an MOT, air con regas, refurbing wheels and aligning suspension, all the way up to 800 BHP+ or race car builds, we have seen and done it all.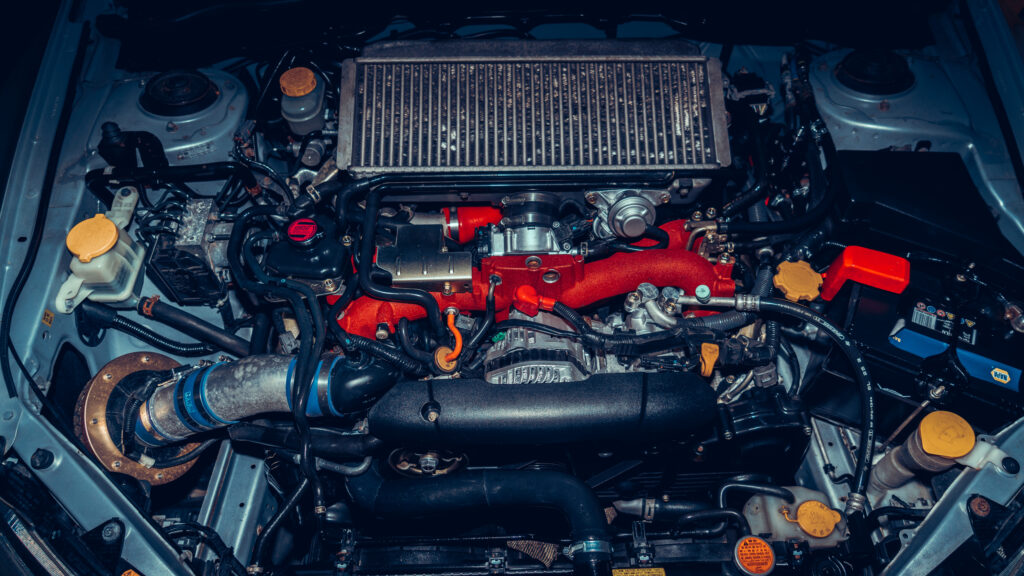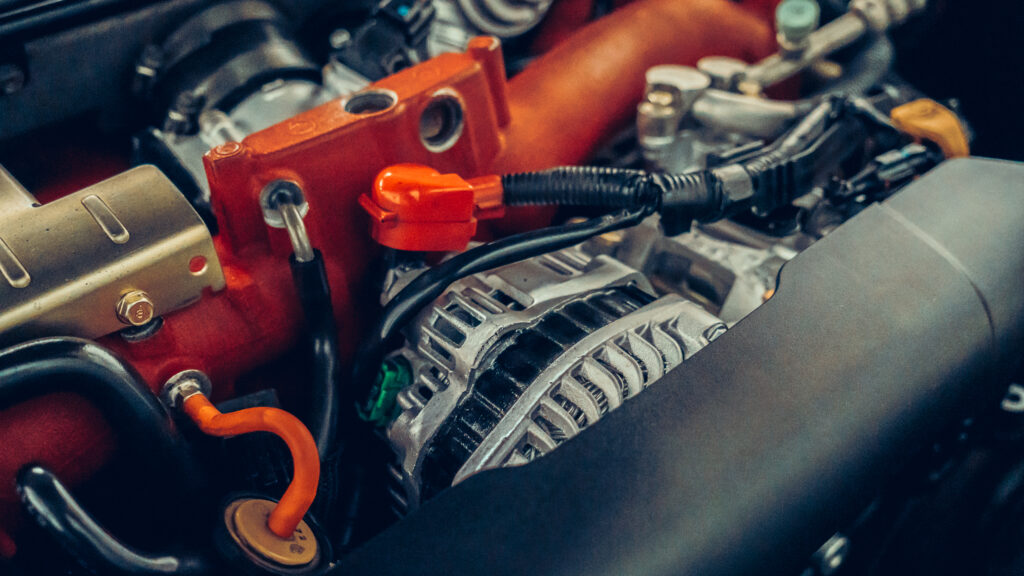 Happy Feature Car Friday from the team at Enginetuner!