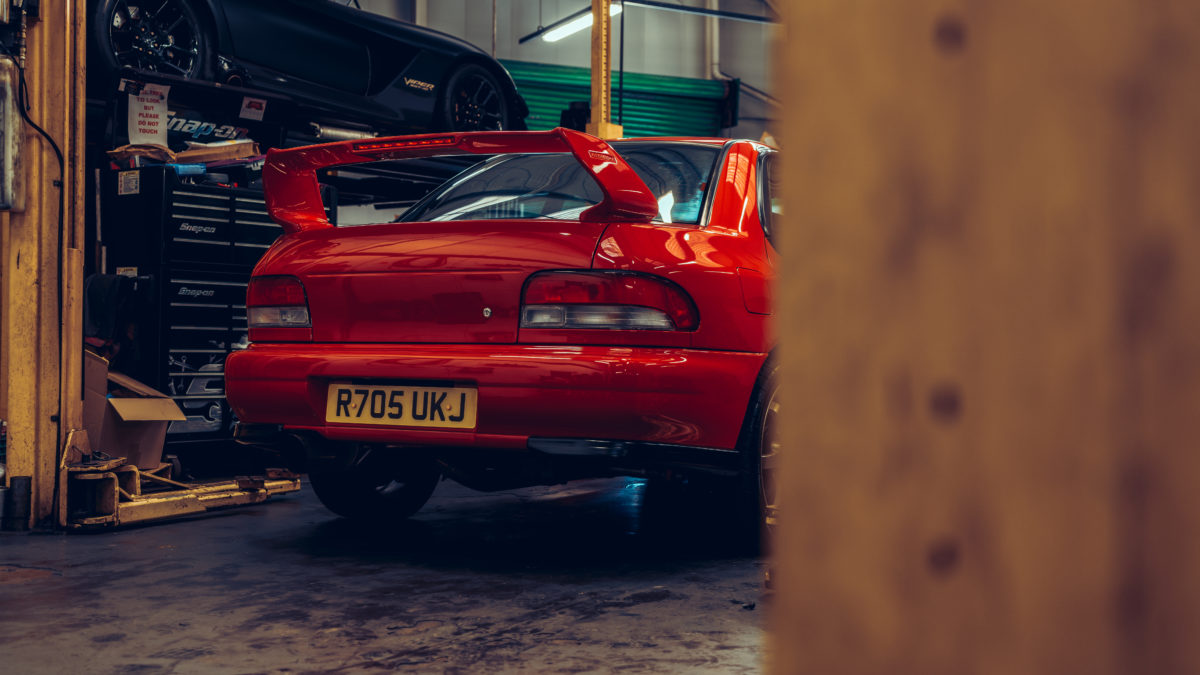 Enginetuner engineered this stock EJ22 block, forged 2.35 stroker, Quad AVCS 800 BHP sleeper UK2000 Subaru Impreza. Read on to see how this supercar killer was engineered to over 800 BHP.
In December 2008, a customer named Stewart brought us his completely standard Subaru Impreza UK2000 to be tested on our Dyno Dynamics AWD rolling road. The car produced 208 BHP. Pretty much as Subaru said it would. But Stewart wanted more! Taking our advice, he purchased a decat and a panel filter along with a 'Simtek' Plug & Play standalone ECU which we set up and mapped to 254 BHP.
Not too long after, he came back for more power. We supplied and fitted a VF34 turbo and a set of injectors and a fuel pump, and mapped it to 280 BHP. During mapping, we noticed that the standard top mount intercooler was having trouble keeping the intake air temperatures at a satisfactory level. We advised Stewart to upgrade to a front mounted intercooler and he was, as ever, happy to follow our advice and promptly asked us to install the front mount and remap the ECU accordingly. This took it to 330 BHP.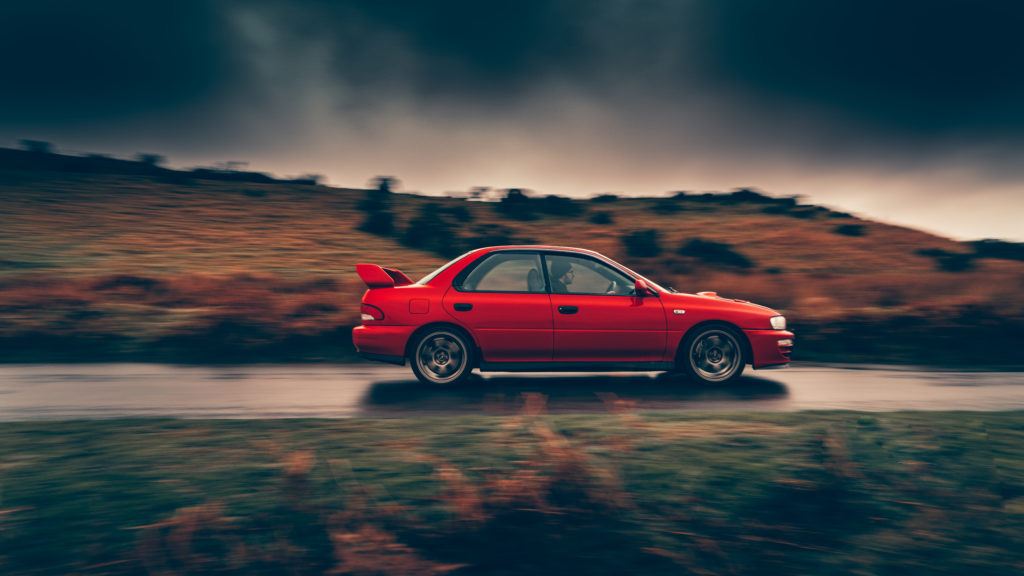 The little GC8 was starting to gain momentum now – Stew was becoming more and more serious about what his car could do. Once again, he looked to us for advice about moving forward. We advised that a freer-flowing exhaust system with a remap to suit would unlock yet more power and torque.
Enginetuner supplied and fitted a set of RCM unequal length headers (to keep the flat-four rumble). We also installed a 3″ Jetex cat back system to keep the noise levels in check (as a recent police roadside check confirmed!) without strangling power. Back on the Dyno and Martyn mapped the car to suit the new hardware to make an impressive 360 BHP!
After having so much more power than Subaru previously intended in a lightweight chassis, it was time to start looking at some stopping power. Stewart managed to source some used but good condition, Newage STI gold Brembo callipers, discs, pads and braided lines which we installed on a Saturday morning.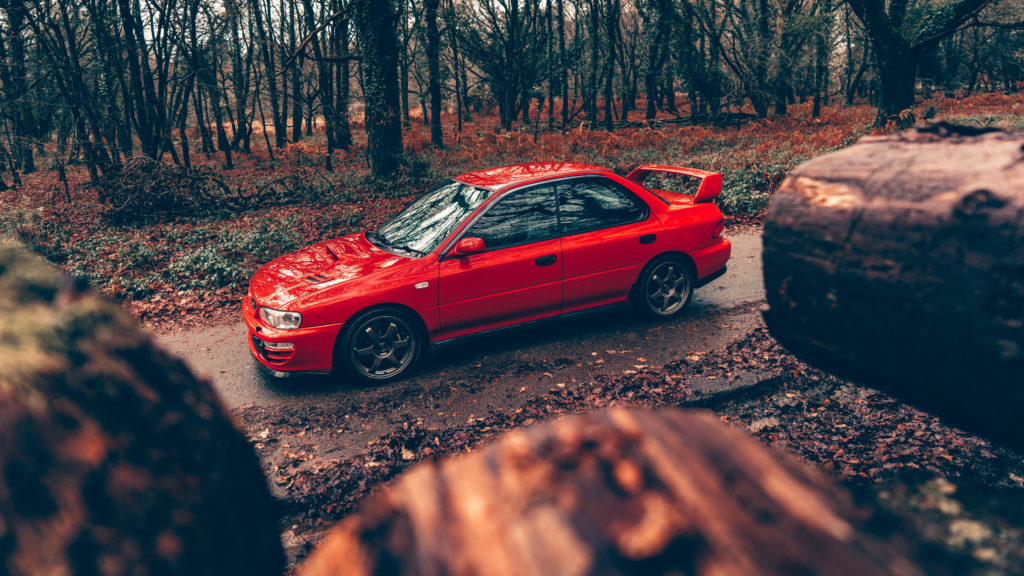 Sometime later and following countless calls from Stewart (quietly annoyed that the stock EJ20 engine "just wouldn't die"), the decision was made to upgrade so we removed it, stripped it down and rebuilt it, all in-house to one of our famous 2.1 stroker forged engines. After it was run-in, we had it back on the Dyno for set up. After Martyn worked his magic, we made 374 BHP! At the time, this was the most power we had seen on a VF34 turbo.
In the interest of future-proofing, a 6-speed transmission, R180 rear diff, prop shaft and rear hubs were sourced and installed to cope with things to come.
On the quest for yet more, Stewart called on our wisdom and sought guidance to unlock more power. As we had reached the peak of the VF34 turbo, we advised it was time to move to a larger bolt-on hybrid unit. Thankfully Subarus are very well looked after in this respect and there are plenty to choose from. After careful consideration, we decided on an SC42 along with bigger injectors and a remap to suit. We broke into the Enginetuner 400+ club and produced precisely the power we quoted: 420 BHP.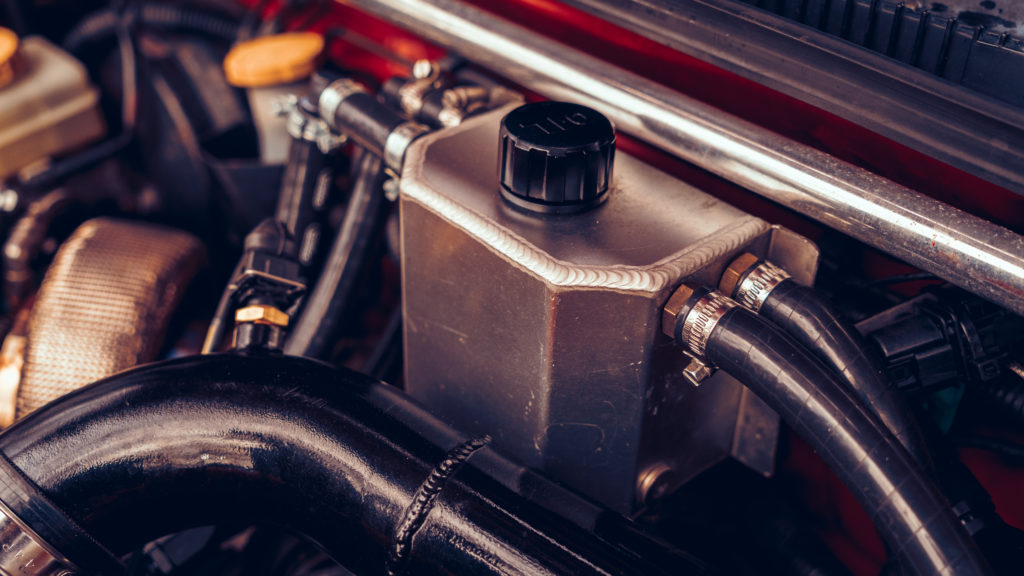 Unfortunately, in the quest for more, there is often a trade-off. In this case, we had gained power, but by going to a larger turbo, we had lost some spool, and on the road, the car seemed less responsive down low in the rev range. Calling on our vast experience and technical know-how, we advised that altered cam profiles could significantly reduce the lag.
We duly removed the 2.1 engine and replaced the cylinder heads for some later Newage STI AVCS (Subaru's Active Valve Control System) heads. We kept the original intake manifold with this setup and used some side-feed to top-feed conversion fuel rails. This allowed us to use a broader injector range, as the side-feed units were becoming limited in options.
The tuning described so far happened over the last decade or so, while Stewart used the car as a daily driver and for record-time school runs!
As time went on, Stewart had that recurring itch for more power! Exploring the options we presented, he made the ultimate choice for the EJ. He had us build him one of our impressive 2.35 stroker engines using a closed-deck EJ22T block.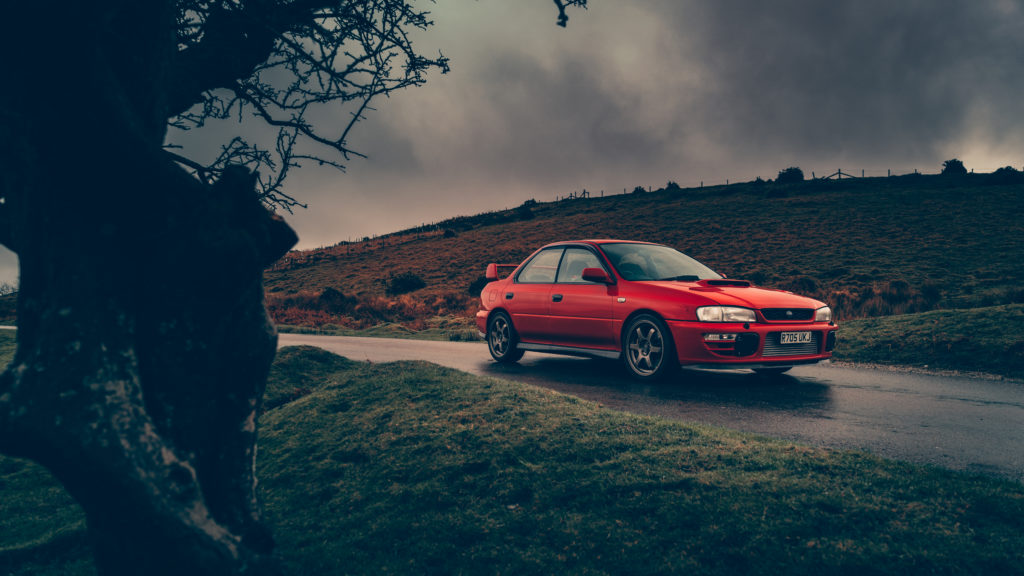 With the build underway, we added a 'rotated turbo' kit from RCM, an Owen Developments Garrett GT35 turbo, Enginetuner-designed under-bonnet swirl pot and external Bosch 044 pump, Newage Bugeye STI intake manifold, some RCM fuel rails, RCM pressure regulator, larger injectors and a Syvecs ECU with onboard wideband control.
With this new rotated turbo setup, we mapped the car in-house to just over 600 BHP on 99 RON pump fuel – a significant jump over the previous spec!
Naturally, this was never enough for Stewart. Soon after, the Owen Developments turbocharger was swapped out for the brand new-to-market Garrett GTX3584RS. We also updated our swirl pot design to run more capacity and accommodate a second fuel pump which we ran in a staged configuration. We swapped out the solitary 044 fuel pump in favour of dual AEM 400 LPH external pumps.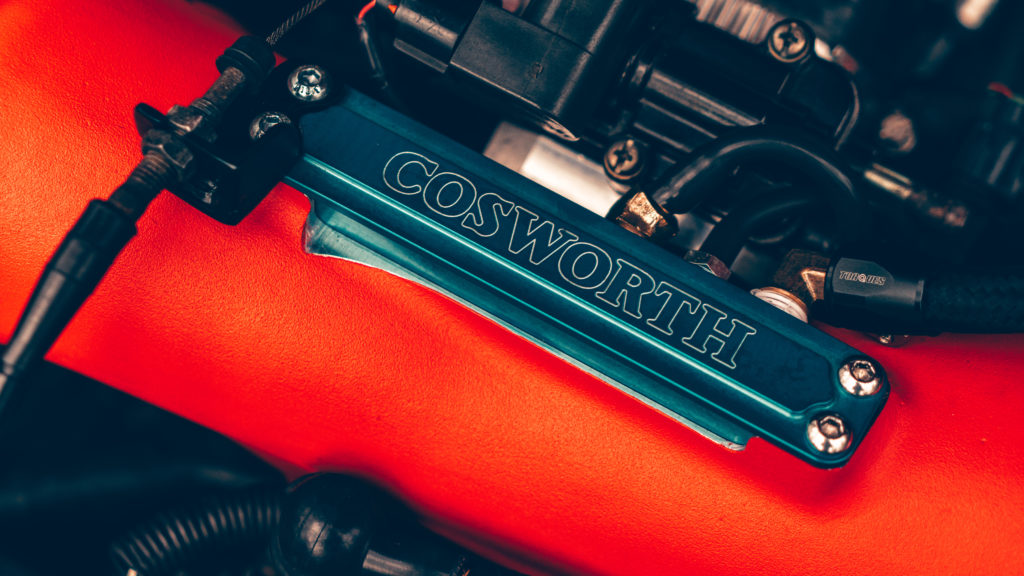 Back on the Dyno again with Martyn at the helm, he mapped it to 668 BHP on 99 Ron pump fuel. We couldn't leave it there and had to break into the Enginetuner 700+ club, obviously!
We installed a 'Flex fuel' sensor (sometimes called an 'ethanol content sensor') and mixed in 20% methanol to the petrol sat within the factory fuel tank. This yielded a healthy 720 BHP!
Stewart came back to us to have a carbon fibre propshaft fitted, and as you do, we got to talking about cars and ideas on builds and the options that lay ahead. We start to discuss the newer 2008+ Subaru's (Hatch) and the dual AVCS heads that come as standard on that model.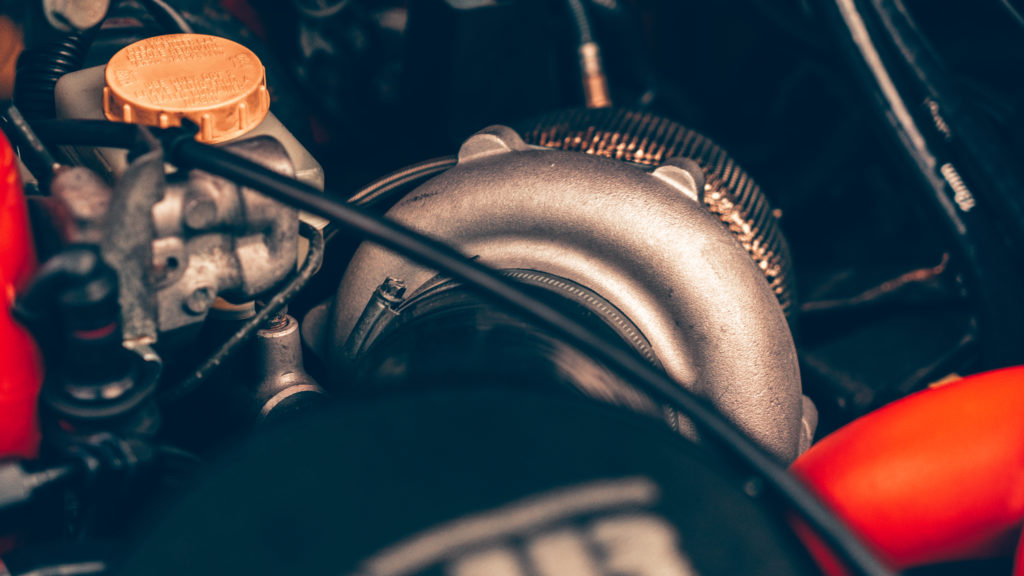 One thing led to another and before long, we had supplied and installed a pair of brand new JDM Spec C dual AVCS cylinder heads which we had CNC gas flowed, fitted with a full uprated and larger Fuji valve train along with our own specification camshafts.
With the extra inputs and outputs required to run the dual AVCS, the Syvecs ECU wasn't going to be able to cut it as we had run out of inputs and outputs and didn't wish to run them from an expansion unit. We also wanted to introduce more engine sensors for some extra added engine protection, and Stew wanted to add a clutch switch for some flat-foot gear shifting.
Being a Link ECU master dealer, we chose the top of the range: the Link Thunder ECU. This is a wire-in unit, and the old 1998 wiring harness was starting to show its age. So we asked our good friend Dave Rowe from EPS Motorsport to build us a custom top of the range, bespoke wiring harness.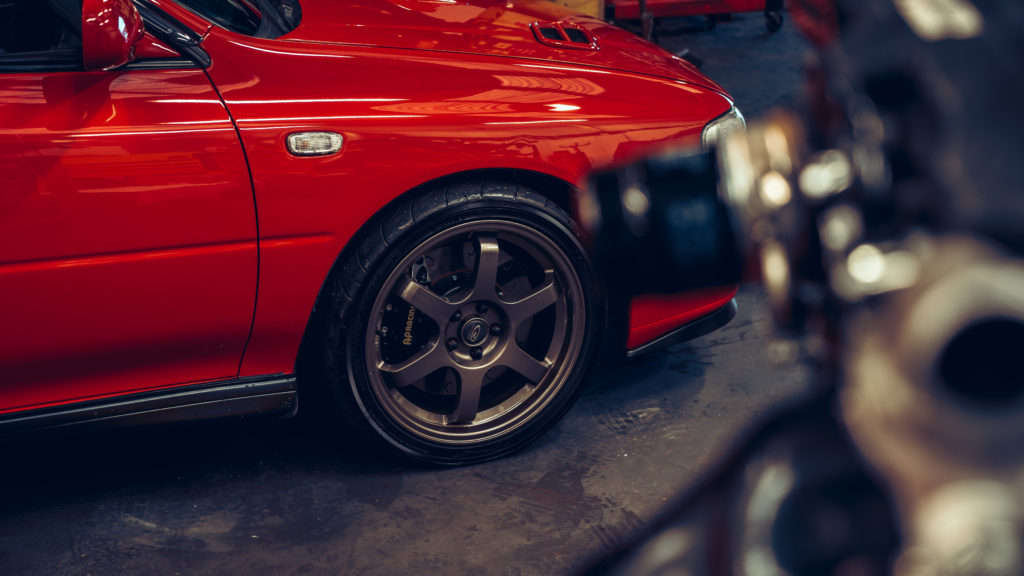 We removed the engine and the single AVCS cylinder heads, and Dave got to work on the harness. While it was all apart, the decision was made to break into the Enginetuner 800+ club.
We sat down and calculated that the big daddy of the new Garrett G-Series of turbos, the Garrett G35-1050, would be the turbocharger of choice for this next round of power. We sent the RCM headers, the new turbo, the wastegate, the downpipe and the up-pipe – both of which we had modified in house to suit the new v-band configuration – off to our friends at Thermomet Engineering. Thermomet coated all the hardware in what can only be described as breathtakingly beautiful (and patented) thermo-insulation.
We chose the Thermomet solution to maintain exhaust gas efficiency while reducing engine bay temperatures by up to 70%. We also fitted an AN6 WRC Mocal fuel cooler to stop the fuel temperature rising unnecessarily.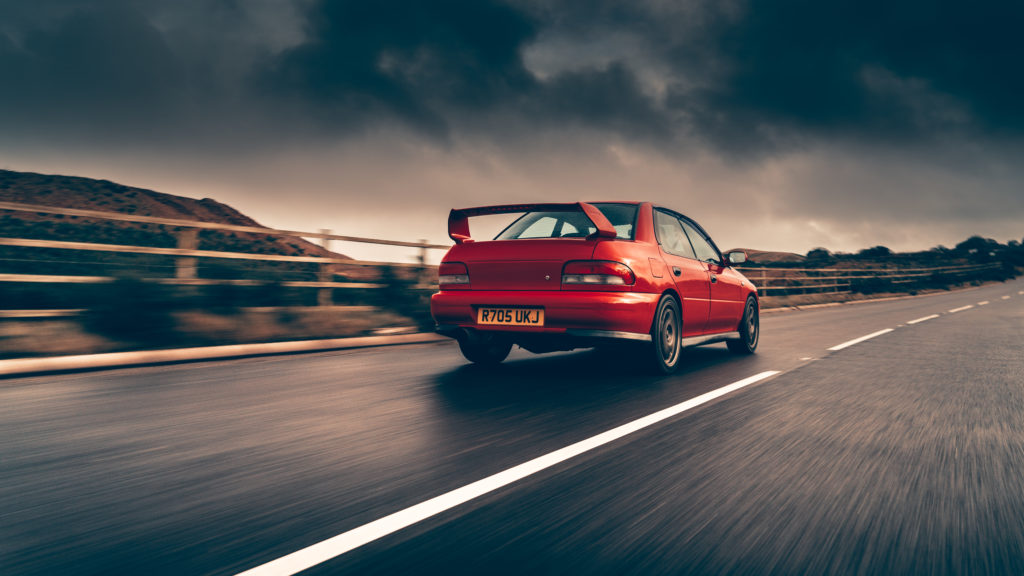 With all the added I/O from the Link ECU, we could monitor much more data such as pre and post intercooler temperature sensors to ensure our Enginetuner 4-inch-thick super core intercooler was maintaining efficiency.
In a bid to improve not only the engine performance but also the braking performance, the Newage gold Brembo brakes were swapped out for a set of AP Racing callipers and rotors, engineered by Godspeed to be able to retain the 17″ Alloy wheels currently fitted to the car.
This latest round of upgrades meant that we had to build a base map from scratch and map this wild setup from the ground up. After much hard work, our team pulled this impressive setup together. Martyn knocked it out of the park once again, to bring the power levels to 714 BHP on 99 RON pump fuel, 774 BHP on pump fuel with 22% methanol and breaking into the exclusive Enginetuner 800+ Club on Sunoco SR18 race fuel mixed with 20% methanol to achieve 824 BHP!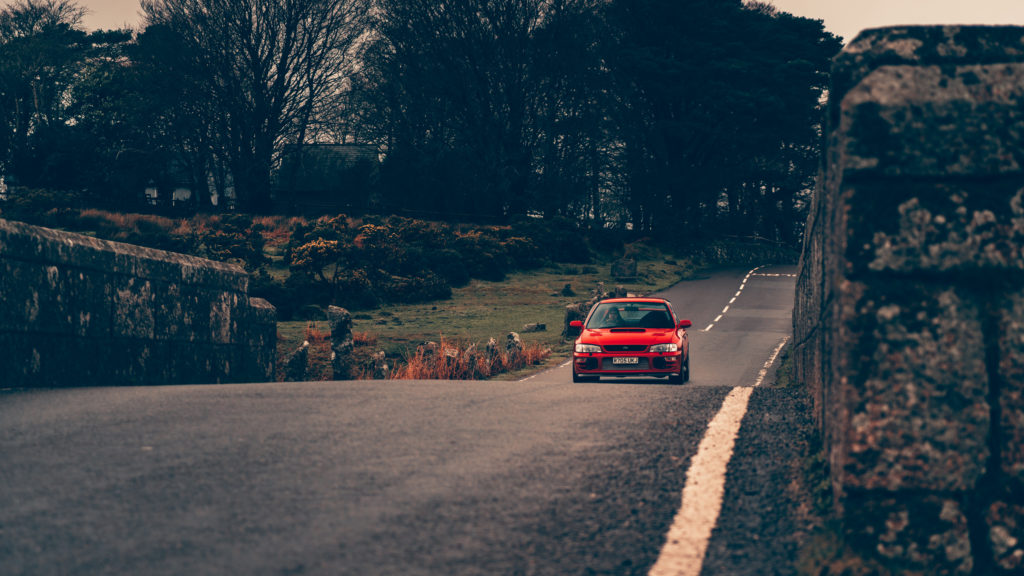 To reiterate, this is a road car that gets used daily, even to do the school run! It starts on the button, maintains a smooth idle and is very unassuming. Off boost, it drives just like any other GC8 with a 6mt transmission. Absolute Perfection.